28 Days Riding with the King
and
Road Tales while Riding with the King
28 Days: Riding with the King is a four week "Biker" devotional that is not just for motorcyclists. Anyone with the heart of a biker--a zest for for adventure and the desire to live life to its fullest--will find inspiration in this four week devotional.
C.S. Lewis said that if you do something for 28 days it will become a habit. What better "habit" to have than participating in daily quiet time with God before hitting the highways and byways. This devotional will help to kick start your journey as you ride with the King.
All of the author's proceeds for both of these books is being donated to the
Christian Motorcyclists Association's Run for the Son.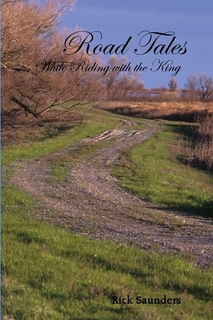 Road Tales while Riding with the King is a collection of stories demonstrating God at work in and through the lives of members of the Northern Virginia Christian Riders chapter of the Christian Motorcyclists Association.
These inspirational stories are provided as examples to show that, no matter where you are on the road of life, when you are riding with the King, and keeping your eyes focused on Him, you can expect to experience God's blessings and glory in mighty ways.
2011 Run for the Son Special
From now until May 7, 2011
Make a $20.00 donation to CMA's Run for the Son
through this website
and get
BOTH BOOKS FREE
(With NO shipping charges)
For every additional $10.00 donation above the initial $20.00
you will receive an additional copy of both books.
A tax receipt will be included with your books for your donation
Click on the appropriate link below to take advantage of this offer
click here to Donate by check/Money Order
All books will be shipped in mid-to-late May
after all funds are turned in to CMA
Rick 'Preacher' Saunders is a past president and chaplain of the Northern Virginia Christian Riders chapter 348 of the Christian Motorcyclists Association and has served as chaplain for Truckers Christian Chapel Ministries. He currently serves as Director of Pastoral Counseling for First Baptist Church of Woodbridge, VA.

28 Days:

Riding with the King

is available at the following on-line book stores:

28 Days: Riding with the King free e-book download is available at lulu.com